Faculty & STAFF
Complaints have been considered as an excuse by many people, but all complaints do not fall under the category of excuses and to resolve such pertinent issues in an amicable manner this committee has been formed. The faculty members can directly approach the members of this committee and ask for help in solving any kind of grievance s/he has. The top level functionaries are involved in the team so that a correct and suitable decision can be taken quickly without the faculty members having to run from pillar to post. Employees can place their grievance through https://hcst.edu.in/ .
| | | |
| --- | --- | --- |
| S.No. | Name | Designation |
| 1 | Dr. R.K. Upadhayay | Chairperson |
| 2 | Dr. Sandeep Agarwal | Member |
| 3 | Dr. Shankar Thawkar | Member |
| 4 | Dr. Suruchi | Member |
| 5 | Tushar Saxena | Member |
STUDENTS
An On-line grievance redressal (multilayered) system to redress student's grievances is in place. Students can place their grievance through GRIEVANCE PORTAL . The grievances, if not attended by concerned within stipulated timeline gets escalated to next level for redressal / requisite action.
Grievence Redressal Mechanism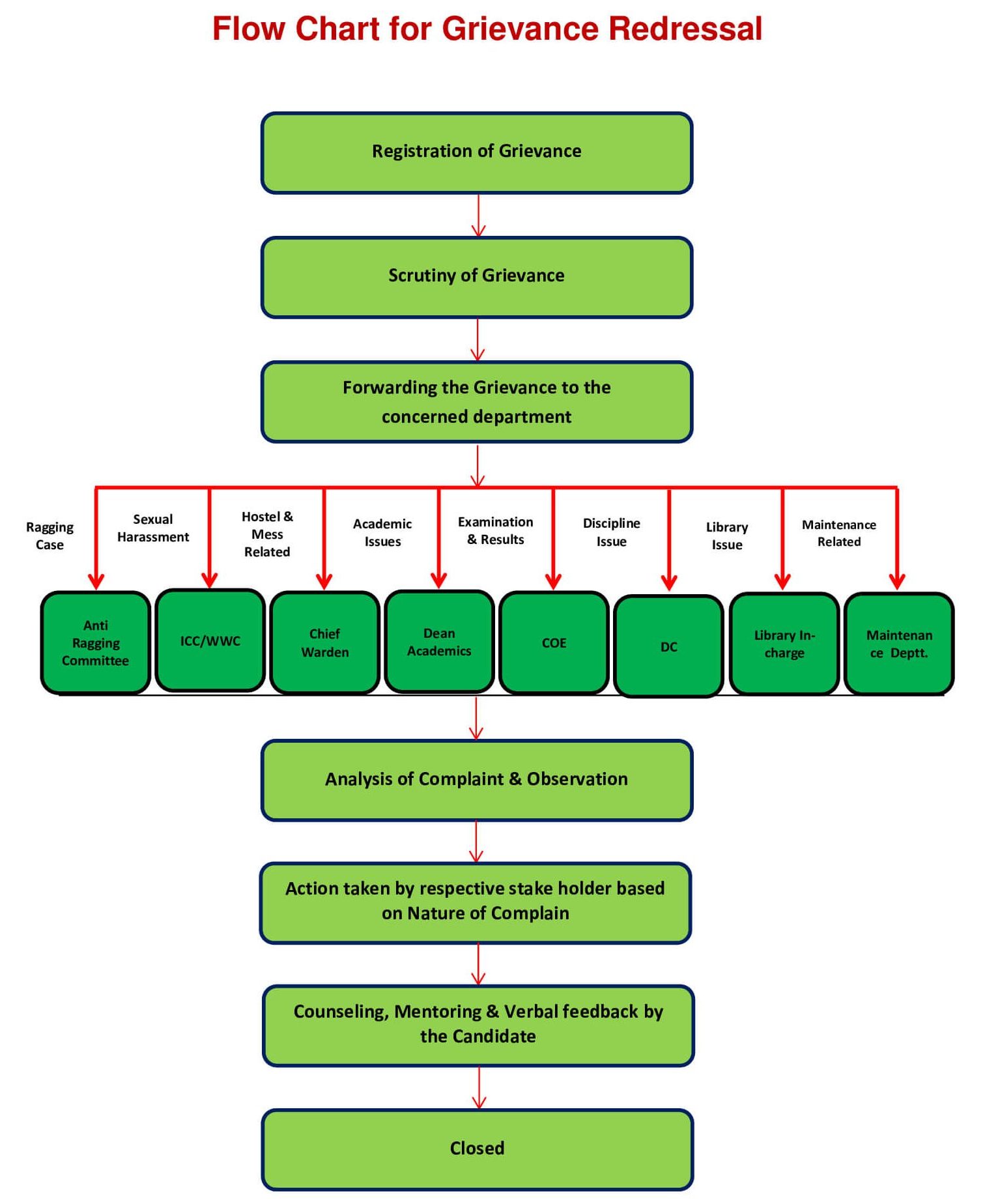 Any student of the College aggrieved by any acts of sexual harassment, misconduct or ragging as defined and summarized here in above can approach the Student Grievance Redressal cell at the College. Further, any student who is aware of any violations must report the same to the Cell. The Cell shall consist of members as appointed by the Director. Grievance must be in writing and should be made within 60 days from the day of the alleged violation. The Cell shall take cognizance of the grievance and inform the Committee formed to enforce this Code or the Internal Complaints Committee, in cases of any sexual harassment complaints. The college closely follows the regulations of UGC (Grievance Redressal) Regulations, 2018
1. The college provides adequate and ample platforms for its different stakeholders to raise their grievances. The college insists on convening regular open houses for all the departments.
2. In order to resolve any confusion and grievance related to admission to various academic programmes special helpdesk should be arranged. Any breach in the reservation policy in admission should be directly informed to the Director.
3. Grievance related to fee payment, caution deposit, etc. should be dealt by the respective heads of the department, and should be reported to the Director according to the seriousness of the issues.
4. Complaints related to various offices of the college including the Director can be informed directly to the manager of the college.
5. Adequate measures should be taken to address the suggestions regularly gathered from the suggestion boxes placed at different blocks of the college.
6. Manuel of the college should be published in print form and online.
7. Grievance Redress Cell convenes frequent meetings to monitor the grievance redress activities of the institution.
8. College has constituted an antiragging committee, women welfare cell, Proctorial board and Discipline committee to leek after and redress different complaints raised by the student in all above Categories.