Please feel free to contact us. We will get back to you with 1-2 business days. Or just call us now.
Electronics Engineering is a constantly changing and widening branch of the engineering profession. Electronics industry being a labour intensive industry provides many job opportunities for the skilled job seekers. Increased production and demand by government and businesses for communication equipment, computers and military electronics along with consumer demand and increased research and development on robots and other types of automation contributes to the growth of employment opportunities in the field.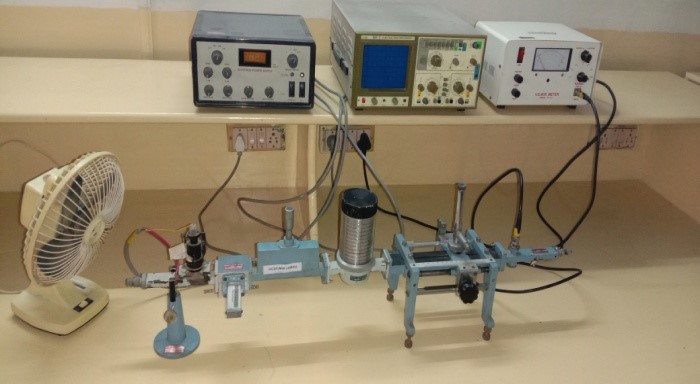 EC Engineering (Electronics & Communication Engineering), is a merger of two basic branches viz., Electronics and Telecommunication Engineering is one of the largest and fastest growing sector of industry. It covers a wide range of applications we daily require and which make our lives easier and enjoyable such as Television, Radio, Computers, Telecommunication, Mobiles, etc. They help us to see, hear and communicate over vast distances, supervise production and manufacturing processes and oversee installation and maintenance of computers, peripherals and components. Electronics engineers work with devices that use extremely small amounts of power. They work with microprocessors, fiber optics, Solar System and in telecommunication, television, radio etc. Electronics engineering is a constantly changing and widening branch of the engineering profession. A merger of Telecommunication Engineering very substantially enhances the employability domain of these engineers as they become more suited for Telecom; hardware and Networking, applications of all kinds, embedded system applications and Mobile Computing software applications and several hi-tech growth allied areas such as VLSI Design and fabrication and Mobile Computing and software development etc with some added specialization.
Vision
Mission
PEOs
PO
PSO
To become a leading center of excellence in the technical education of Electronics & Communication Engineering and create competent professionals in thrust areas for the development of the society and nation.
To educate the students with state-of-the-art technologies through an innovative teaching-learning process.
To enable the graduates to develop the skills required to solve complex real time problems using tools and techniques of Electronics & Communication Engineering practice
To develop the spirit of innovation and creativity by collaborating with industries and research establishments to fulfil the needs of society.
To practice high standards of human values, professional ethics and accountability.
 
PROGRAMME EDUCATIONAL OBJECTIVES (PEOS)
Have a sound foundation required to develop hardware & software solutions necessary for analysis, design and implementation of modern Electronics & Communication Engineering systems.
Develop effective communication skills and interpersonal behaviour to become a cooperative team member and an able leader.
Inculcate the habit of life-long learning needed for higher studies and research and continue to develop new methodologies and technologies.
Provide quality and worthy service towards their profession with societal and ethical values.
PROGRAMME OUTCOMES (POS)
Apply the knowledge of mathematics, science and fundamentals of Electronics & Communication Engineering to solve engineering problems.
Identify, formulate and analyse complex problems in the field of Electronics & Communication Engineering using first principles of mathematics, natural sciences and engineering.
Design and develop system components and processes to meet desired needs within realistic constraints such as economic, environmental, social, political, ethical, manufacturing, and sustainability.
Design and conduct experiments using research based knowledge and analyse and interpret data to provide valid conclusions.
Use the concepts, techniques and modern engineering tools necessary for prediction, modelling and design of an engineering system.
Understand and assess the issues related to society, safety, health and culture and the consequent responsibilities of professional engineering practice.
Demonstrate the understanding and knowledge of the impact of engineering solutions in societal and environmental context in order to have sustainable development.
Understand and apply ethical principles and responsibilities towards professional engineering practice.
Understand individual and team responsibilities to be able to become a member or leader in diverse and multidisciplinary teams.
Design and prepare reports and deliver effective presentations by learning oral, verbal and written communication skills to be able to communicate effectively on engineering activities with the engineering community and society at large.
Understand the engineering and management principles and apply them to manage projects in multidisciplinary environments.
Recognize the need for and engage in life-long learning in the context of technological change.
To apply fundamentals of science, engineering and mathematics for finding solutions of real time problems in the field of electronics & communication engineering.
To demonstrate proficiency in hardware and software development and adapt to emerging technologies like embedded systems, wireless networks, telecommunications, digital signal processing, computer system security.
I extend a warm welcome to all students of Electronics & Communication Engineering to HCST. Today there is virtually no aspect of human existence that is untouched by electronics and communication. Home electronics – TV, computer, mobile phone, microcontroller controlled kitchen appliances, satellite communications, avionics, defence electronics, automotive electronics are some of the areas where electronics has found contemporary application. Software is another area of activity for electronics engineers. Thus a wide range of entrepreneurial and employment opportunities exist for electronics graduates. At HCST we are well equipped in infrastructure and faculty to provide a solid base to budding engineers. We welcome you at HCST.
DR. SANJAY JAIN
HOD, Electronics and Communication Engineering
FOR UNDERGRADUATES
B.Tech in Electronics And Communication Engineering
FOR GRADUATES
M.Tech Electronics And Communication Engineering(VLSI)
There are total 18 seats in M.Tech VLSI design. Admission criterion is 60% in B.Tech. Candidate need to appear for the entrance examination conducted by AKTU. For gate qualified candidates there is provision of direct admission. In the dept. we have set up lab for M.Tech in which VHDL programming is taught to the students. Students learn to do circuit simulations using SPICE as well here.
Center of Excellence
Labs
Classrooms
Center of Excellence
HCST- IOT LAB
IoT Lab was setup in the department in the year 2019. The internet of things is basically a network of several devices which are attached with miscellaneous software, electronics, and network connectivity of district orientations aimed at exchanging and compiling of any kind of information. IoT is applied in many industries including finance, travel, teaching, telecommunication, and so on, When it comes to implementing IoT in the education sector, the major reason is the IoT enhances the education itself and provides advanced value to the structures and environment. A smart school (a school that uses IoT), with the facilities operating smoothly promotes a higher level of personalized learning. The smart devices used in a campus utilize Wi-Fi network for receiving instructions and sending data. This lab equipped with ESP8266 processor based boards having Nodemcu Lua based OS. Students perform various experiments like digitally display and measure the temperature of atmosphere with the help of temperature sensor, speed regulation of D.C. Motor, interfacing of ultrasonic sensor for distance measurement, control relay from anywhere in the world etc. .
Labs
MICROPROCESSORS & MICROCONTROLLERS LAB
Microprocessor and Microcontrollers Lab provide students with hands-on experience with building, programming, testing and debugging processors and microcontrollers. This lab is equipped with 8085 and 8086 microprocessors training boards, 8051 microcontroller training kits, peripherals devices such as 8255 (programmable peripherals interface). The lab also has 30 computers and relevant software packages.
Software: Window 7/ Windows 8, MS Office 2007, WinZip, Acrobat Reader, Winzip, Winrar, Star UML, Prolog, CLISP, J2SDK7, XAMMP, Apache Tomcat 7, IBM RSA
COMMUNICATION LAB
This lab focuses on training the students in both analog and digital transmission/reception of signals. It consists of equipments like PAM, PPM, PWM, DSB/SSB, DSBSC/SSBSC, TDM, ASK/PSK, Modulator and demodulator.
CAD of Electronics Lab
This lab helps students to stimulate their projects before being made physically. It has softwares like LT spice, MATLAB etc.
ELECTRONICS CIRCUIT
Electronic circuit lab focuses on design and analyzes basic electronic circuits. It consist of power supplies, function generator (3Mhz), CRO (20 Mhz) and various experimental training kits.
MICROWAVE ENGINEERING LAB
This lab helps to design to analyze the characterization of RF and microwave components. This lab consist of following equipment such as Microwave Benches (X-Bands), Microwave test benches, Klystron based and various microwave components.
SKILL DEVELOPMENT LAB
The students are motivated to make projects in this lab. In the past several projects have been made by the students like Arduino based smart dustbin, Home automation system, Robots, Drone, Day-night automatic switch using LDR, wireless water level controller, GSM based moisture sensor etc.
Classrooms
Department of EC has 4 classrooms and 3 tutorials rooms. LCD projectors is available in all the classrooms. It also has 160 seats media centre so that of all students of all years can interact with each other.
Faculty Achievements
Students Achievements
Faculty Achievements
Faculty Name
Achievement Type
Achievement Year
Short Description
Organization
Ms. Rupali Mahajan
Certification
2019
NPTEL certification in Micro-Processors and Micro-Controllers
NPTEL
Certification
2022
NPTEL certification in Introduction to Internet of Things
NPTEL
Mr. Sanjay Singh
Certification
2021
Certification in Radar Remote Sensing
NPTEL
Certification
2022
Certification in Machine Learning
NPTEL
Mr. Mukund Lal
Certification
2020
Certification in Introduction to Research
NPTEL
Certification
2020
Emotional Intelligence
NPTEL
Certification
2023
Science of Happiness and Well being
NPTEL
Certification
2023
Introduction to Industry 4.0 and IIoT
NPTEL
Ms. Deep;ti Gupta
Certification
2020
Certification in Digital Electronics Circuits
NPTEL
Certification
2020
Certification in Basic Building blocks of Microwave Engineering
NPTEL
Certification
2020
Certification in Accreditations and Outcome based learning
NPTEL
Mr. Himanshu Prakash Rajput
Certification
2016
TTT certification in VLSI Verfication Engineer
ESI
Mr. Honey Kumar
Certification
2016
TTT certification in VLSI Verfication Engineer
ESI
Mr. Ajeet Singh
Certification
2016
TTT certification in VLSI Verfication Engineer
ESI
Students Achievements
| | | | |
| --- | --- | --- | --- |
| Batch | Achievement Type | Student Name | Short Description |
| 2016-20 | Sports | Sanjana Pradhan | Gold medal in AKTU Zonals |
| 2016-20 | GATE | Kushagra Dwivedi | Qualified GATE in 2020 |
| 2016-20 | GATE | Shruti Mishra | Qualified GATE in 2020 |
| 2019-22 | Certification | Abhay Goyal | 1. MOOC course on Industry 4.0 and IOT |
| | | | 2. MOOC course on Emotional Intelligence |
| | | | 3. MOOC course on Enhancing Soft Skills and Personality |
| 2019-22 | GATE | Abhay Goyal | Qualified GATE in 2022 and currently pursuing M.Tech from DAIICT, Mumbai |
| 2019-23 | GATE | Dhruv Chaudhary | Qualified GATE in 2022 |
Guest Lecture
Workshops
Faculty Development Program
Industrial Visit
Guest Lecture
Guest lecture by Shri S C Kapur, Engineer from BHEL on power electronics and applications of thyristors
Workshops
WORKSHOP ON PYTHON PROGRAMMING
A three days workshop on python programming was organized by Pradeep Dwivedi of B2E coder at the institute for students of Electronics and Communication Engineering branch and Electrical and Electronic Engineering branch from 3-5 Oct. 2019. In this workshop students learn python programming basics.
| | | | | | |
| --- | --- | --- | --- | --- | --- |
| S.No. | Session | Program | Program Name | Date | Organized/Conducted By |
| 1 | 2017-18 | Workshop | Internet of Things | 19-20 September, 2017 | Mr. Navneet Singh and Mr. Vineet |
| 2 | 2017-18 | Workshop | MATLAB | 07-08 March, 2018 | Mr. RajKumar Thenua and Md. Ayub Khan |
| 3 | 2019-20 | Workshop | Python programming & machine learning applications | 03-05 October,2019 | B2E Coder |
Faculty Development Program
5-days Faculty development program on digital signal processing was organized in the year 2018 in which speakers from IIT, Indore and IIT, Kanpur and DEI, Agra were invited.
Digital signal processing (DSP) is the use of digital processing, such as by computers or more specialized digital signal processors, to perform a wide variety of signal processing operations. The digital signals processed in this manner are a sequence of numbers that represent samples of a continuous variable in a domain such as time, space, or frequency. In digital electronics, a digital signal is represented as a pulse train,[1][2] which is typically generated by a MOSFET (metal–oxide–semiconductor field-effect transistor) switch.
Digital signal processing and analog signal processing are subfields of signal processing. DSP applications include audio and speech processing, sonar, radar and other sensor array processing, spectral density estimation, statistical signal processing, digital image processing, data compression, video coding, audio coding, image compression, signal processing for telecommunications, control systems, biomedical engineering, and seismology, among others. The application of digital computation to signal processing allows for many advantages over analog processing in many applications, such as error detection and correction in transmission as well as data compression.Digital signal processing is also fundamental to digital technology, such as digital telecommunication and wireless communications. DSP is applicable to both streaming data and static (stored) data.
Industrial Visit
INDUSTRIAL VISIT TO PEDA
Students of Electronics and Communication branch, III year went to Chandigarh for industrial visit to Punjab Energy Development Agency (PEDA) in which student learn to place solar panels in such of way that maximum output can be obtained without blocking the natural light coming inside the building.
INDUSTRIAL VISIT TO SURYA ROSHNI LTD.
Students of EC final year went to Surya Roshni Ltd. Gwalior for industrial visit on 2 Nov 2019 in which they learn about LED, CFL and Tubelight manufacturing process.
ABHAY GOYAL
PURSUING M.TECH FROM DAIICT, MUMBAI, BATCH 2019-22
AASHI GUPTA
SENIOR ENGINEER-BLUE STAR LIMITED BATCH 2019-22
AYUSH GUPTA
SOFTWARE ENGINEER TATA CONSULTANCY SERVICES BATCH 2018-21
SANJANA PRADHAN
VLSI ENGINEER WIPRO BATCH 2018-21
AKSHAT JAIN
COGNIZANT BATCH 2018-21
HARSHIT AGARWAL
DEVELOPER EMBEDDED SYSTEMS TATA CONSULTANCY SERVICES BATCH 2018-21
QUIZOPHILE ORGANISED BY ESA
"Quizophile" an event organized by Electronics Student Association on 16 Nov 2019 in which students of several branches of HCST participated. Somya Pratap of Computer Science Branch won the first prize. The quiz consisted of multiple choice and one word answer type questions based on general awareness.