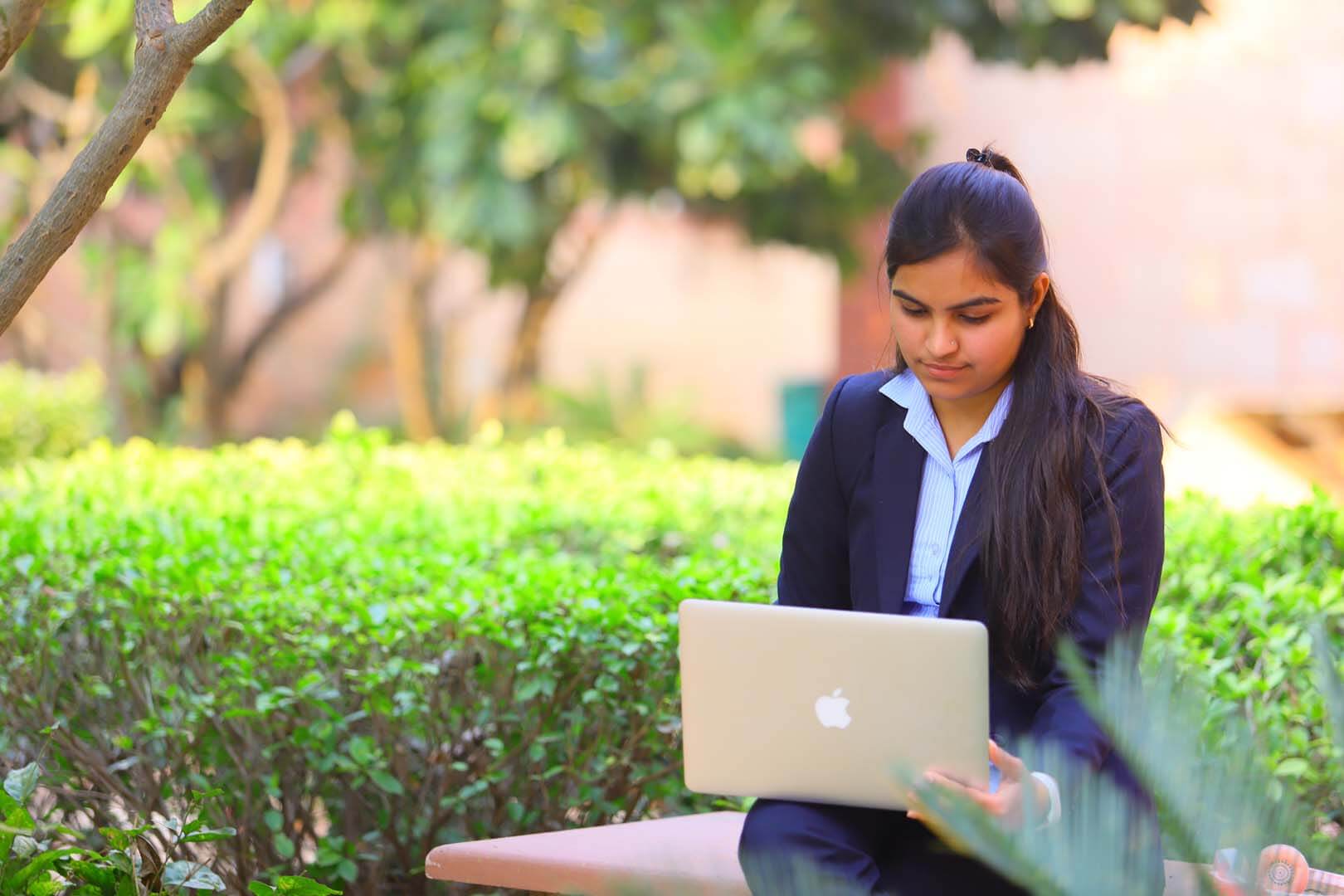 Master of Business Administration (MBA) is a 2 year post graduate management program that provides candidates with qualitative and quantitative knowledge to help them analyze and understand business problems and promote, create and manage business opportunities. The program strengthens the analytical, theoretical and applied knowledge base of the principles of Business Administration. MBA program At Sharda Group near Mathura imparts relevant and holistic management knowledge and skills to make the candidates industry-ready across all functional areas.
Please feel free to contact us. We will get back to you with 1-2 business days. Or just call us now.
The course also delivers written and oral communication competencies to candidates to enhance their managerial competence. The soft skill training helps the candidates to understand, imbibe and appreciate the qualities of behaviour that will always keep them in good stead in life. Right from the beginning of the program, the emphasis is on providing the relevant inputs through simulation exercises, role plays, case studies and note plays etc, keeping in mind the current corporate scenario.
The program is comprised of 2 years divided into 4 semesters. Our MBA course curriculum is designed in such a way that during the first two semesters, candidates have to study the core or compulsory subjects from different functional areas of business management. Between the first and the second year, each candidate has to undergo a summer training of 4-6 weeks. During the second year, specializations are offered in functional areas where the candidates can opt for specializations from Marketing, IT, International Business, HR and Finance.
Program Highlights
Innovative pedagogy
Industry aligned discussions
Qualified, experienced and devoted faculty members
Live projects and internships
Soft skill training and social welfare programs
Extra-curricular activities
Candidates will develop professional skills that prepare them for life-long learning and for immediate employment in advanced fields of management and other related areas.

Candidates will develop themselves as effective leaders by solving real-world problems through the use of business management skills and with attention to critical thinking, team work, effective communication and problem solving skills.

Candidates will also be provided with an educational base that prepares them for various leadership roles along diverse career paths.

Candidates will demonstrate their ability to adapt to a quickly changing business environment by having learned and applied new competencies.
Any graduate who has cleared or appearing for the final year degree exam in any discipline by any recognized university is eligible to apply.
BBA qualified students can also pursue MBA.
Graduation

50% Marks in Graduation

Passed from recognized university
2 Years Course

4 Semester

2 Semester/Year
MBA graduates from Sharda Group are popular among recruiters as they attain all the essential managerial skills during the course and therefore are more mouldable and can embrace the business values of specific organisations faster. MBA program aims to prepare candidates for responsible positions in business management – usually managerial positions. Finance and consulting are the two major sectors that employ MBA degree holders.
The other big sectors where the professionals can work after the completion of MBA program from the Sharda Group, Agra, Uttar Pradesh are: media, leisure, high technology, industries and utilities, consumer goods and food, tourism and many more. Teaching and research are among the popular choices after MBA. Besides these, candidates can also start their own business or get associated with family business.
CORPORATES WHICH RECRUIT SGI MASTER OF BUSINESS ADMINISTRATION STUDENTS
ASHLER INDIA PVT. LTD.
CEASE FIRE
HDFC BANK
SBI LIFE INSURANCE
TOLUNA
UNICON
DEFODIL SOFTWARE
ITC RETAIL
GREEN PLY
ASIAN PAINT
VODAFONE/AIRCEL
L&T
INDIAMART
ELEVATIONS & CREATIONS
HCL TECH. LTD. (BUSS. SERVICES)
RELIANCE COMMUNICATION
GETIT INFORAMTION SERVICES
KOTAK LIFE INSURANCE
ASHIANA HOUSING
VIP INDUSTRIES
AIR CELL
FUTURE GROUP (BIG BAZAR)
AGREEN RELIGORE
RELIANCE DIGITAL
KEVINE GROUP
KARUR VYASA BANK
+ 30 more companies
The remuneration for business managers is among the highest in the country and starting from Rs. 2 lakh/p.a. to Rs.5 lakh/p.a. at the entry level is a common range if one holds a good MBA degree from good business management institutes. For IIMs & equivalent institutes and capable students, the upper limit can stretch to 2 to 3 times of this (Rs. 5 – 20 lakh p.a.) and even higher for those placed overseas. The remuneration for those holding an MBA degree and a bachelor's degree in a discipline which is also concerned with that kind of work domain enhances the expertise and also the remuneration. B.Tech / MBA, B.Com / MBA / ICWA / CA, or IT / MBA are some such prized combinations.