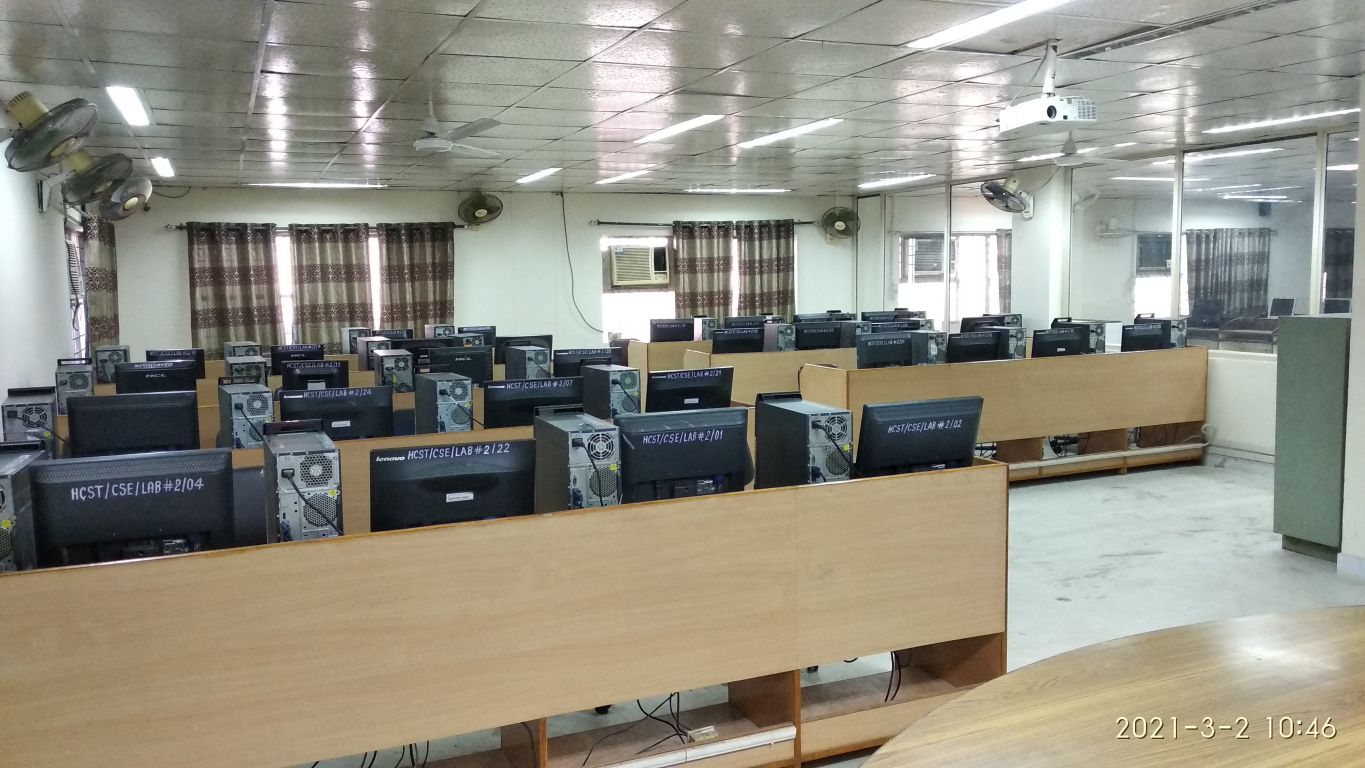 B.Tech in Data Science is a new, exponentially growing field which consists of a set of tools and techniques used to extract useful information from data. The programme encompasses data Science as an interdisciplinary, problem-solving oriented subject that learns to apply scientific techniques to practical problems. 
Please feel free to contact us. We will get back to you with 1-2 business days. Or just call us now.
About Computer Science - Data Science
The course curriculum involves a blend of data inference, algorithm development, and technology to analytically solve complex problems. The programme imparts a confluence of skills in three major areas of mathematical expertise, technology hacking skills and business strategy and acumen. The core of this programme is the ultimate use of enormous data in creative ways to generate business value. Hidden insights are brought to the fore to enable companies to make smarter business decisions. Data Science programme orients on practical classes and self-study during the preparation of datasets and programming of data analysis tasks. The demand for Data Scientists exceeding the supply is a severe problem in the data-driven world we are living in today. As a result, most organizations are willing to pay high salaries for professionals with appropriate Data Science skills.
THIS COURSE IS FOR STUDENTS WHO ARE LOOKING FOR…

The first step in getting trained as a data scientist is to enroll in a data science course that can teach you everything you need to know to succeed in the field – from the fundamentals to advanced skills.
This programme is for students who wish to learn about advanced data analytic methods that are currently available on the market. The programme focuses on the development of skills and an understanding of how to properly use available data to gain superior insights. The programme will concentrate on the models, tools, and procedures for analyzing data from a range of sources.
A profession in a field that is always evolving, with an almost limitless range of data generation, gathering, processing, and analysis. Financial stability, the ability to relocate, and the opportunity to learn for the rest of one's life are just a few of the benefits that make this programme an excellent choice for computer science enthusiasts. Successful graduates of the programme will have access to a variety of career opportunities. The course's successful graduates are offered a preliminary average compensation of INR 5 to 8 Lacs. After completing the course, students might find work in both the commercial and public sectors.
To prepare students to succeed in this profession and to pursue higher education and research in computer science and allied engineering disciplines.

To provide students with a solid foundation in mathematics, science and engineering fundamentals required to formulate, analyze and solve the challenges and problems related to computer science and engineering.

To inculcate in students professional and ethical attitude, good communication skills, leadership qualities, and ability to relate engineering to global perspective issues.

To provide students with an academic environment that fosters excellence, transparency, and promotes awareness to latest technological impediments.
10+2 pass from a recognized board or university with Physics, Chemistry, English and Mathematics as compulsory subjects and a minimum of 50% marks.
10+2 with PCM

50% Marks in 10+2

Passed from recognized board or university
4 Years Course

8 Semester

2 Semester/Year
The six major fields (domains) in which IT professionals work are:-


Business and Finance:

Financial Analysis: To make wise investment judgments, data scientists in finance examine past financial data, market patterns, and economic indicators.
Risk Assessment: To evaluate and manage financial risks, including as operational, market, and credit risks, they create models.

Healthcare and Life Sciences:

Healthcare Analytics: Healthcare data scientists use data to improve clinical results, maximize patient care, and streamline administrative processes.
Drug Discovery: To speed up the search for new drugs and find viable therapies, they use machine learning and data analysis.

Marketing and E-Commerce:

Customer Analytics: Marketing data scientists examine consumer behavior, tastes, and purchasing trends to develop customized marketing campaigns.
Recommendation Systems: They create algorithms for recommending goods or content to users, as seen on websites like Netflix and Amazon.

Technology and social media:

Social Media Analysis: They develop the algorithms used by websites like Netflix and Amazon to suggest products or content to customers.
Cybersecurity: They employ data-driven techniques to identify and mitigate cybersecurity threats.

Government and Public Policy:

Policy Analysis: Government data scientists use data analysis to support public initiatives like healthcare, transportation, and urban planning.
Criminal Justice: Data are used to increase public safety, lower crime rates, and improve law enforcement tactics.

Manufacturing and Industry:

Predictive Maintenance: Data scientists assist manufacturing organizations in predicting when equipment can malfunction, minimizing downtime and maintenance expenses.
Supply Chain Optimization: By examining data pertaining to inventory, logistics, and demand forecasting, they optimize supply chain operations.
Data Architect and Administrators
Visualizers of the data management framework for the entire organization, data architects work closely with data engineers. They primarily work on understanding enterprise strategy and data that needs to be collected. They then create new database systems or enhance the performance of existing systems. Additionally, data architects design the flows and processes for data management and data engineers build the infrastructure. The U.S. Bureau of Labor Statistics projects up to 180,000 jobs for database administrators and architects by the year 2030.
Data Engineer 
Data engineers are experts at accessing, and moreover, processing vast amounts of real-time data. Vital to technology-driven companies and tech departments, they interpret unformatted and unverified data. Thus, daily tasks include maintenance of high data volumes as well as creating data pipelines to make data accessible for further analysis with the data teams. Data engineers set up the infrastructure using programming languages (Python) and advanced SQL, NoSQL.
Data Analyst 
Most data scientists start as data analysts and data engineers at the beginning of their careers. Data analysts work directly with raw data collected through the systems. This also means they work with various teams like marketing, sales, customer support, and finance to process information.
Data Scientist 
Data Scientists go beyond analyzing big data to address real-world business problems. The C-Suite relies on data scientists to provide trends, patterns across data and offer actionable insights and strategies that can affect the bottom line. Their insights have a direct impact on strategic business decisions.
Machine Learning Engineer 
A Machine Learning Engineer is a unique combination of software engineering and data science that works with big data daily. In a large consumer-facing setup both roles work together but may have independent responsibilities. Data scientists are expected to be machine learning experts with advanced software programming skills. ML Engineers develop software, ML models, and artificial intelligence (AI) systems to drive various processes for the organization.
Statisticians and Mathematicians
Prominently working in the government, healthcare, and research and development organizations, statisticians identify trends that advise decision-making and policies in organizations. Mathematicians and statisticians interpret large volumes of numerical data and design research surveys, develop mathematical models to collect data as well as report findings.
Business IT Analyst 
Strategists at heart and analysts by mind, a business analyst evaluate a company's processes and analyses industry trends and markets. Business analysts process enormous amounts of data and scout opportunities to improve business revenue ad growth. Common job titles held are business intelligence (BI) developers and business consultants.
Marketing Analyst
Identifying shifting consumer behaviors and examining new buying trends as well as analyzing the digital universe for a business is all the excellence of a market analyst. With most businesses selling digitally, marketing analysts access large amounts of data across various platforms and devices to create strong go-to-market strategies and evaluate marketing campaigns.
Clinical Data Managers
Clinical data managers unite healthcare training with mathematics, programming, computer science, and statistics. Similar to the other fields, data collection to data governance and data integrity across clinical trials and research, clinical data managers actively assimilate, analyze and predict medical industry trends.
 With a B.Tech degree in Data Science, a candidate can get hired as a – 
Data Science Consultant
Data Engineers
Data Architects
Data Technologies Specialist
Financial Modeler
Data Ecologists
Data Visualizers
Clinical and Pharmaceutical Analyst
CORPORATES WHICH RECRUIT SGI COMPUTER SCIENCE ENGINEERING STUDENTS
Software Companies:
TCS
Infosys
Oracle
Tally Solutions
Sopro
Huawei
Satyam
L & T Infotech
HCL
I-Gate
I-Flex
Polaris
M-Phasis
ITC Infotech
R-Systems
Ramco
Belmark
Persistence
Geometric Solutions
NIIT Technologies
Torry Harris
Wipro Infotech
EDS
Webcom
Global Logic
Compare Infobase
Kale Consultants
U.S. Technologies
Jaintec Software Solutions
EMC2 Ltd.
Netchasers
Sapient
Sapient Informatics
Accenture
Daffodil Software
Networking Companies:
HCL Infosystem
Data Armor
Spanco
Hughes Communication
Idea
Tata Tele Services
Sterling Telecom
INS Ltd.
Mobile/Communication Companies:
Sasken
Z-Teck
Electro Com
Sony Ericsson
L.G. Electronics
Control & Switchgears
TNS
Abacus