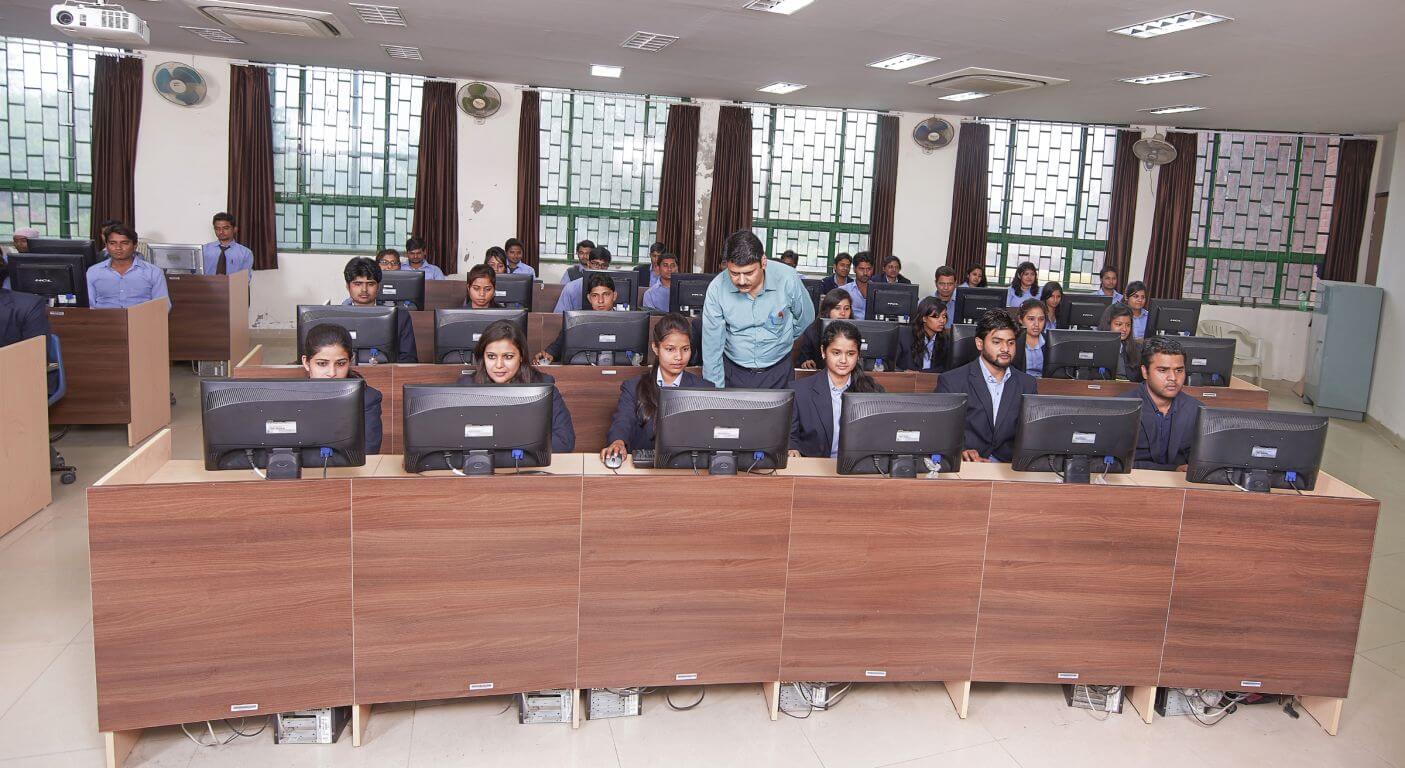 B.Tech Computer Science and Engineering is 4-year undergraduate degree program that covers theoretical foundations of computation, information technology, their implications and the functioning of computer systems. Computer engineers are involved in the designing and development of hardware and software systems.
Please feel free to contact us. We will get back to you with 1-2 business days. Or just call us now.
About Computer Science & Engineering
B.Tech Computer Science and Engineering Program at Sharda Group equips the students with strong practical and theoretical knowledge of computer hardware and software. The computer engineering program integrates several disciplines including Information technology, software design, electrical and electronics engineering etc. Computer engineers not only focus on how computer systems work but they also integrate into larger scheme of things.
Amongst all the engineering disciplines, B.Tech Computer Science and Engineering is one of the most popular choices for students. The program is challenging and offers immense career opportunities to the successful students.
B.Tech Computer Science and Engineering is a 4 year program and the curriculum is spread over 8 semesters. The fundamental objective of the program is to provide the opportunity for the students to develop a firm foundation in Science, Mathematics and Design Methodology of the computer systems.  The course covers all the fundamentals and offers a holistic learning environment where students understand, learn and apply the most contemporary and essential tools and technologies required.
In the first year, basic engineering subjects like Physics, Chemistry, Mathematics and Engineering Drawing are covered.  From second year, students will focus on core subjects including data structure, programming, operating system, computer networks, web technologies, complier design, software engineering, databases and computer architecture and theoretical computer science.
We at Sharda Group have well equipped laboratories associated with the technical divisions. All labs are equipped with latest software and hardware to provide better research and learning facilities to students to meet the challenges of IT sector.
To prepare students to succeed in this profession and to pursue higher education and research in computer science and allied engineering disciplines.

To provide students with a solid foundation in mathematics, science and engineering fundamentals required to formulate, analyze and solve the challenges and problems related to computer science and engineering.

To inculcate in students professional and ethical attitude, good communication skills, leadership qualities, and ability to relate engineering to global perspective issues.

To provide students with an academic environment that fosters excellence, transparency, and promotes awareness to latest technological impediments.
10+2 pass from a recognized board or university with Physics, Chemistry, English and Mathematics as compulsory subjects and a minimum of 50% marks.
10+2 with PCM

50% Marks in 10+2

Passed from recognized board or university
4 Years Course

8 Semester

2 Semester/Year
The six major fields (domains) in which IT professionals work are:-


This includes the physical elements of the computer system and deals with the designing, manufacturing and maintenance of computers. This area also includes the assembling of the manufactured components of the computers; and installing & integrating the computer systems through Networks for efficient utilization. Hardware & Networking are two separate disciplines having some common subject / understanding.
SOFTWARE ENGINEERING & DEVELOPMENT
This includes the set of instructions by which a computer is programmed for working and performing the specified tasks. This realm includes the work of designing the programs for various purposes. Programs may be for controlling the functioning of the computers or they may also be some user-friendly programs for specific needs. The programs may also come in the form of packages, which are designed for specific needs, or meeting the different kinds of requirements for large number of people. Custom made programs & solutions for special applications are also needed on a huge scale.
SERVICES & APPLICATION SUPPORT
Systems integration & applications management; Networking & data base management; installation & maintenance of software applications etc. are some of the support & services rendered.
BUSINESS DEVELOPMENT & CUSTOMER RELATIONSHIP MGT. (CRM)
In IT, these are akin to the Sales & Marketing activities. As Software solution providing is essentially a consulting discipline the marketing is highly technical & termed Business Development.
It involves designing of chips and circuits, computer architecture and integration of peripherals. It also includes improvement and upgrading of the existing systems, software & applications.
I.T. & INFRASTRUCTURE MANAGEMENT
Managers ensure that the development and operations work goes on smoothly. They look after the allocation of resources and planning. MBA-IT qualifications (like BCA/MBA-BBA/MCA; B. Tech (CS or IT) + MBA) are much sought after in this segment.
Computer Engineering is in huge demand these days in almost all the sectors. B.Tech Computer Science and Engineering at Sharda Group offers challenging career opportunities to the students and they have multidisciplinary roles to play.
After completion of B.Tech Computer Science and Engineering, engineers can work in database management, IT, telecommunications, computer hardware and software implementation, embedded systems, gaming, web designing, multimedia, web applications, network administration, artificial intelligence, programming and many other industrial sectors across the world.
At senior management levels the industry offers almost the best compensation. At entry level also offers range from Rs. 2.5 lakh p.a. to Rs. 6.5 lakh p.a. and in 4 years the earnings get doubled. For those trained in niche areas of software development, ERP, VLSI & chip design, etc. or in MNCs of repute Rs. 4.0 lakh p.a. to Rs. 8 lakh p.a. at entry level may be offered.
CORPORATES WHICH RECRUIT SGI COMPUTER SCIENCE ENGINEERING STUDENTS
Software Companies:
TCS
Infosys
Oracle
Tally Solutions
Sopro
Huawei
Satyam
L & T Infotech
HCL
I-Gate
I-Flex
Polaris
M-Phasis
ITC Infotech
R-Systems
Ramco
Belmark
Persistence
Geometric Solutions
NIIT Technologies
Torry Harris
Wipro Infotech
EDS
Webcom
Global Logic
Compare Infobase
Kale Consultants
U.S. Technologies
Jaintec Software Solutions
EMC2 Ltd.
Netchasers
Sapient
Sapient Informatics
Accenture
Daffodil Software
Networking Companies:
HCL Infosystem
Data Armor
Spanco
Hughes Communication
Idea
Tata Tele Services
Sterling Telecom
INS Ltd.
Mobile/Communication Companies:
Sasken
Z-Teck
Electro Com
Sony Ericsson
L.G. Electronics
Control & Switchgears
TNS
Abacus