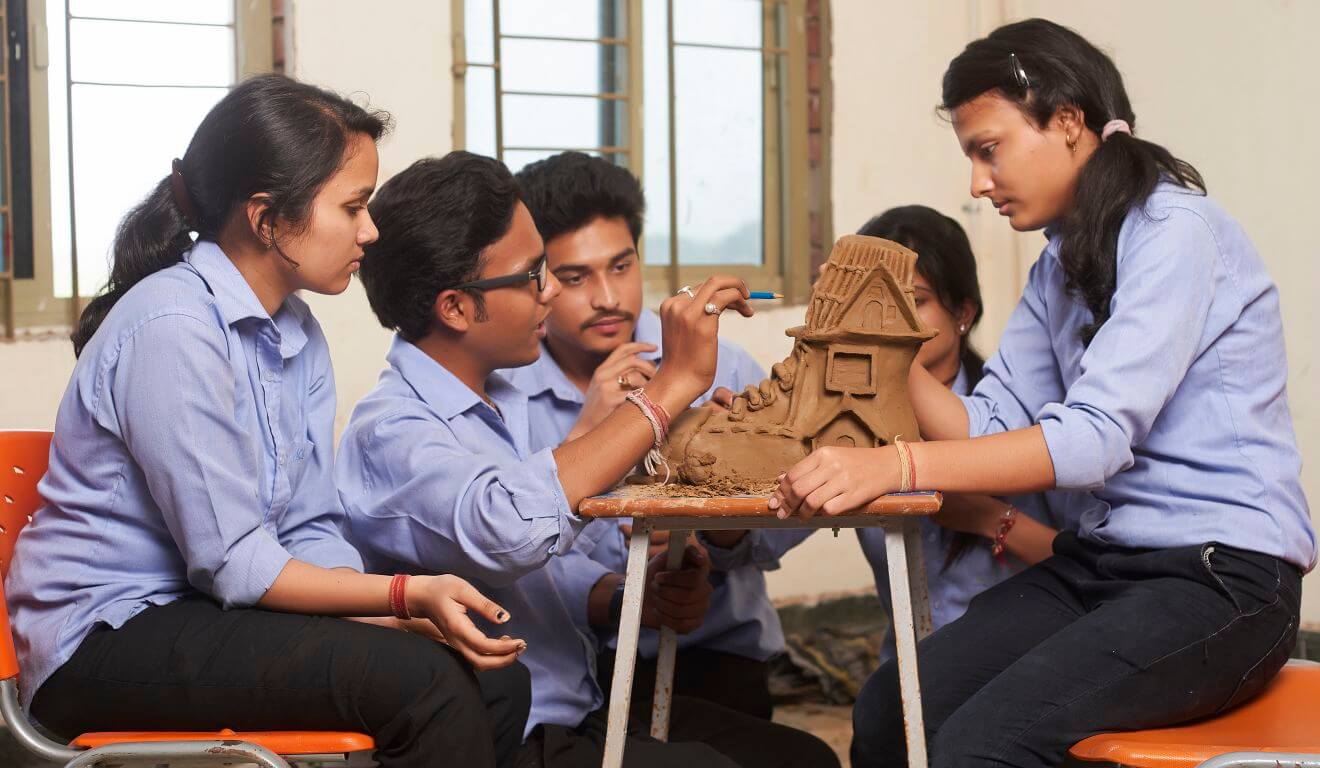 B.Tech Civil Engineering is a professional undergraduate degree program that deals with the design, construction and maintenance of physical and naturally built environment including bridges, buildings, canals, dams etc.  It is one of the oldest engineering disciplines that are based on science, mathematics and computational tools.
Please feel free to contact us. We will get back to you with 1-2 business days. Or just call us now.
B.Tech Civil Engineering course at Sharda Group imparts strong theoretical foundations to the students and combines practical learning with various areas such as construction, surveying, transportation engineering, geotechnical engineering and town planning. Course duration is 4 years which is divided into 8 semesters. Civil engineers design and construct things that are part of our lives like roads, schools, homes, offices, airports etc. Even they also build things that we use in our daily routine like water system and electricity system.
Traditionally, civil engineering is divided into sub-disciplines including geotechnical engineering, structural engineering, environmental engineering, transportation engineering, coastal engineering, water resources engineering, construction engineering, and municipal or urban engineering.
The course curriculum at Sharda Group has been built on strong foundation of achieving technological development that places a high impact on the design aspect of engineering which distinguishes their students from other engineering graduates. B.Tech Civil Engineering course is inter-disciplinary and covers a wide spectrum of electives that are aimed at in-depth understanding of computational fluid mechanics, geographical information system, remote sending and environmental science.
Students take a common core of civil engineering courses, and they can specialize in the areas of geotechnical, transportation or structural engineering etc. The curriculum at Sharda Group lays intense focus on the strength of materials, soil mechanics, structural analysis, concrete technologies, design of steel structures, water resource engineering, hydraulic structure and machinery, building drawing, construction management and reinforced concrete structures.
Highlights of the Program


Industry relevant courses in cutting edge technology of civil engineering

Well-qualified and highly-dedicated faculty

The program has strong learning components offering a range of departmental and cross-departmental electives

Research oriented academic program with cutting-edge laboratories

Modern computer labs with high-end workstations and newest software
To identify, analyze, formulate and solve challenges in civil engineering

To develop professional skills in the candidates that will prepare them for immediate employment and higher studies

To develop abilities in the students for the application of necessary mathematical tools, basics and fundamental knowledge of civil engineering

To produce graduates who are prepared for life-long learning and a successful career as civil engineers

To develop professional, leadership and communication skills in the students
10+2 pass from a recognized board or university with Physics, Chemistry, English and Mathematics as compulsory subjects and a minimum of 50% marks.
10+2 with PCM

50% Marks in 10+2

Passed from recognized board or university
4 Years Course

8 Semester

2 Semester/Year
After pursuing B.Tech Civil Engineering program, candidates can easily find jobs in public as well as private sector industries, research and teaching institutions etc. The demand of civil engineers is never-ending as they will always be needed for repair and maintenance of existing structures and to design the new ones. Civil engineers are employed in all major construction projects carried out by central or state governments, railways, private construction companies, military etc.
Studying B.Tech Civil Engineering at Sharda Group of institutions will secure your future and offer exciting opportunities to work in civil engineering field across the globe.
A good civil engineer should possess Logical and critical reasoning, analytical, comprehension and thematic aptitude, quantitative aptitude, good communication, linguistic and verbal skills innovative and creative mind set with curiosity to learn, mechanical aptitude and attention to details, emotional maturity with good interpersonal skills, capacity for hard work and field duty and problems solving skills are some of the essentials.
CORPORATES WHICH RECRUIT SGI CIVIL ENGINEERING STUDENTS
Software Companies:
TCS
Infosys
Satyam
L & T Infotech
L & T e-solutioin
HCL
Geometric Solutions……
Corporate Companies:
Larsen and Toubro (ECC Division) Ltd.
Omaxe Ltd.
Hindustan Construction Co. Ltd.
ERA Infrastructures Ltd.
Oriental Constructions Ltd.
Simplex Infrastructure Ltd.
Continental Engg. Ltd.
Proto Infosys Ltd.
Punj Lloyd Ltd.
Lloyd Insulations Ltd
JMC Projects
Soma Enterprises
Kanwar Enterprises Ltd.
Piaggio Ltd.
Orissa Cement Ltd.
AIMIL Ltd.
MES-UES…..
Remuneration:
 Starting at Rs. 2.2 lakh p.a. – Rs. 6 lakh p.a. and senior engineers earn about Rs. 8.0 lakh p.a. to Rs. 16 lakh p.a.