[vc_row triangle_shape="no"][vc_column][vc_column_text]An online panel discussion was organized on Virtual Lab Gateway and Window for New Education Policy at Hindustan College, a prestigious institute of Sharda Group.  In which, the President of National Accreditation Board (NBA), Prof.  K.K.  Agarwal, was the Chief Guest, Chief Coordinating Officer, AICTE, Dr.  Buddha Chandra Shekhar, Chief Operating Officer, Ministry of Electronics and Information Technology, Government of India, Dr.  Rishikesh Patanka were the special guests and Prof. Dr. C.S. Kumar of IIT Kharagpur was the Guest of Honour. 
The Vice Chairman of SGI, Mr. Y.K. Gupta and Executive Vice-Chairman Prof. V.K. Sharma welcomed all the guests and thanked them for their contribution to this panel discussion for the institute. 
At the beginning of the program, the Director of the college Dr. Rajeev Kumar Upadhyay welcomed all the guests, and said that after this discussion, the teachers and students of the college would learn the benefits of virtual lab.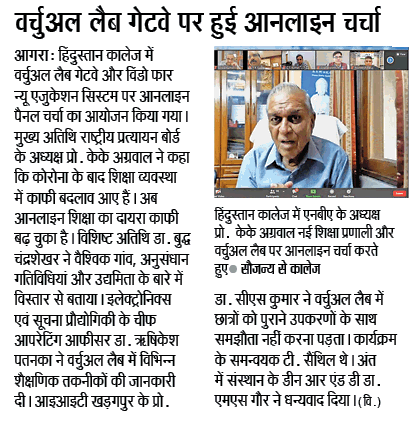 The Chief Guest Prof. K.K. Agrawal described the education policy and said that there has been a lot of change in education before and after Corona.  Before Corona, there was not so much scope of online education.  Today, the scope of online education has increased tremendously, due to which the importance of virtual life has also increased.  Giving examples of youtube, PPTs, he told that today you will get videos of the subject you want on youtube.  Due to which you can get all kinds of education sitting at home.  He maintained that many universities are starting online courses.  He also explained the importance of imitation in detail.  He said that if you are doing any experiment in the chemical laboratory in which there is a possibility of explosion which can be dangerous for the experimenter and if you do the same experiment through a virtual lab then it is not dangerous at all. He explained that virtual laboratories designed with the latest technology, protect the students from the hazards they face while conducting some of the most dangerous laboratory experiments. In addition, it deals with the need to deal with toxic radioactive chemicals and other similar hazards and provides an effective way to avoid laboratory accidents.  He also discussed physical experiments and anatomy in detail.
The special guest Dr. Chandrashekhar explained the global village, research activities and entrepreneurship in detail. He also told about Quad Computing, Natural Language Processing.
He explained that Virtual Lab refers to a virtual teaching and learning environment aimed at developing the laboratory skills of the students. As one of the most important e-learning tools, they allow the student to conduct various experiments over space time without any constraints, unlike the constraints of real laboratories. He explained that using virtual laboratories, teachers can make complex theoretical concepts easy through a visual that students can easily understand.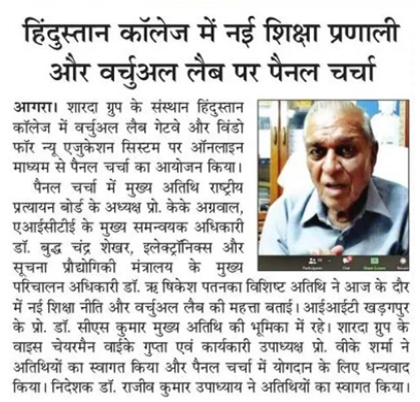 The Chief Operating Officer of Electronics and Information Technology Dr. Rishikesh Patanka informed that various pedagogical techniques have been incorporated in the virtual lab which helps the learners to understand the theoretical information better. These techniques include visual learning, active learning, skill-based learning, gamification and storytelling.
He explained that this will help students access a realistic laboratory experience that will allow them to experiment and practice their skills in a risk-free and interactive learning environment. Prof.  Dr.  C.S.  Kumar of the Mechanical Department, IIT Kharagpur, explained that learners do not have to settle on outdated equipment with virtual labs and can instead work with AI-powered labs and modern learning techniques. They can easily compete with peers by using advanced technological solutions.  He explained the usefulness of artificial intelligence in detail. He added that apart from this, these laboratories can help the teacher to cover various aspects of the curriculum with practical applications. This allows students to understand concepts better, which are otherwise difficult to introduce with limited equipment and funds. Mr. T. Senthil, the IIP Head of the Institute was the coordinator of this program.
At the end of the program the Dean R&D, Dr. M.S. Gaur proposed a vote of thanks to all the guests, Vice Chairman Shri Y.K. Gupta, Executive Vice President Prof. V.K. Sharma and the Director of the Institute Dr.  Rajeev Kumar Upadhyay said that through this discussion our teachers and students will understand the usefulness of virtual labs and expressed hope that virtual labs will prove to be the biggest means of experiments in future.
In this discussion all the Deans, Heads of Departments, Faculty members and Non-teaching staff of the Institute were present.[/vc_column_text][/vc_column][/vc_row]