Hindustan College of Science and Technology, a prestigious institute of Sharda Group  has tied up with National Small Industries, Technical Services Centre, Neemka, Faridabad for training, internship and placement of students.
NSIC is an organization of the Ministry of Micro Small Medium Enterprises, Government of India, which has a state-of-the-art technical training centre in Faridabad.  It is among the centre's state-of-the-art technologies to offer training programs and placement opportunities for undergraduate engineering and technical students in various disciplines.  This MOU has been conducted in NSIC Faridabad.
This laboratory will help the students in many subjects like robotic systems, machine vision technology, industrial internet of things etc.  This will help the students of Electronics Communication Engineering, Electrical Engineering, Mechanical Engineering and Computer Science.
Shri Ramkumar Yadav Deputy Chief of NSIC expressed his happiness that the NSIC Technical Servicesis happy to introduce special training programs for college students in association with Hindustan College. He informed that the centre offers customized training programs for students as per the market requirements.  With this agreement, handholding support will be provided to students for working in the laboratory and NSIC centres.  They will also be trained by the experts of the centre.  Studentswill also be trained during summer and winter break. He also informed that college teachers will also be trained under this agreement.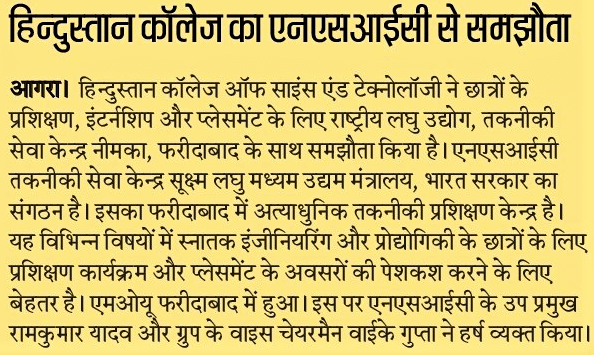 Mr. YK Gupta, Vice Chairman, Sharda Group and Executive Vice President Prof. VK Sharma, Hindustan College's expressed happiness over the agreement with NSIC  Hesaid that the students of the institute will be certified by the training centres of the government.
Dr.  Rajiv Kumar Upadhyay, the director of the institute thanked NSIC, Faridabad for this agreement with the institute and told that the students of Electronics and Communication, Electrical Engineering, Mechanical Engineering, Civil Engineering and Chemical Engineering will be trained by the centre and they will get excellent placement opportunities.
Dr. T. Senthil, Head of Industry Interface stated that this agreement would give the student an opportunity to increase his knowledge.  Under this agreement, the student will receive training in various subjects such as Pion, Artificial Intelligence, Machine Learning, 3D Printing, Material Testing, Chemical Testing and Robotic Systems which will help in increasing employment opportunities for the student.  It also planned to organize employment fairs for the employment opportunities of the students.

On this occasion, all the deans, head of department, teachers and employees of the institute expressed happiness over the agreement with NSIC and Hindustan College.