Shweta Bajpai, student of Biotechnology, got the first position in UP in the Chemical Engineering Group
The students of Science and Technology have secured first, second and third position in the merit list announced by Dr. APJ Abdul Kalam Technical University, Lucknow.
Vice Chairman of Sharda Group Shri YK Gupta and Executive Vice President, Prof. VK Sharma wished the director of the college, all the teachers and the students, on this achievement.He said that Hindustan College of Scienceand technology is known for quality education.I am confident that in future also our students will continue this type of demonstration.On this occasion, He wished all the officers and teachers of the institute for Good luck and motivated them to work hard.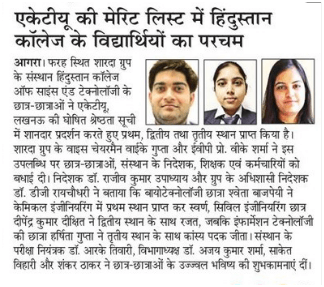 Expressing happiness over this achievement of the students, Director of the institute, Dr. Rajeev Kumar Upadhyay said that our students have always excelled in the best list of Dr. APJ Abdul Kalam Technical University, Lucknow. The academic environment of the institute has been encouraging students to perform best in academic and competitive exams.Dr.DG Raychaudhury, Executive Director of Sharda Group, wished the students and expressed his happiness.
Dr. RK Tiwari, the Controller of Examinations of the institute, said that this time, Shweta Bajpai, student in the biotechnology department got Gold Medal ,Dipendra Kumar Dixit, a student of Civil Engineering Department, won the Silver Medal by securing second position in Civil Engineering and Harshita Gupta, student of Information Technology Department won a bronze medal by securing third position.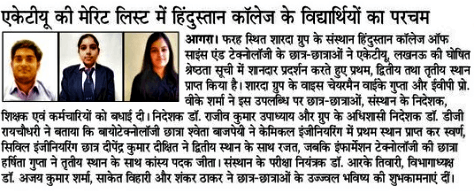 Dr. Ajay Kumar Sharma, Head of Biotechnology Department , congratulated Shweta Bajpayee on her achievement.
Mr. Saket Vihari, Head of Civil Engineering Department, congratulated Deependra Kumar Dixit
Mr. Shankar Thakar, Head of Information Technology, Department, congratulated the student Harshita Gupta on this achievement andwished her good luck, he said that our students have been doing similar performances in various competitive examinations to be held at All India level and This reflects the high quality education system of our institute.
On this occasion, all the deans, head of departments and teachers of the institute also congratulated the students.